posted in Solutions, viewed 19k times
I'm writing this because there's a lot of cluelessness about this (at least on this board). I think this is inevitable as long as there are people getting their first computer, their first connection to the internet, their first downloads, their first RAR...
Hopefully this will be useful to them. (Please, no bashing on how easy it is etc... Not everyone is computer-savvy.)


What's an RAR file?
It's an archive format, much like ZIP files.

What's it used for?
Primarily for two things.
1. If you want to send a bunch of files, it'd be tedious to send them one at the time. File archivers allow you to package many files into a single one.
2. It compresses so the file takes less space. It's more successful at doing so for certain file types (text, bitmap images, wav audio) than for others (JPEG images, H.264 or MPEG-4 videos for example, which are already compressed to the max).
Most of the time, it does both at the same time.

If it doesn't compress my DivX movie that well then why do people RAR it anyway when it's only one file?
RAR files also contain file integrity information.
If you sent your file without RARing it, and there were any errors during transmission, and the resulting file were corrupt or different, you wouldn't know it. If you RARed it, and there are differences, WinRAR will throw an error upon attempted extraction (CRC failed).

OK. So how do I get what's inside of it?
On Windows the two most popular programs for opening RAR files at the moment are WinRAR and 7-zip. Both are free (well, WinRAR is semi-nagware*, but it's barely noticeable). You can download WinRAR at http://www.rarlabs.com and 7-zip at http://www.7-zip.org. Another program that can open RAR files is WinAce.
For this example I'll use WinRAR, but similar principles apply to 7-zip. After running setup, a lot of people will double-click their RAR file and see what's inside, but have no idea what to do next. While you can drag-and-drop the contents, or go to commands, extract files to the specified folder, there's a much more expedient way. Just right-click the RAR file, and pick extract here, or extract to <folder name>.**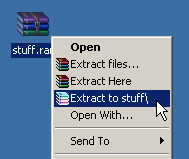 Tip: If you want to make your rar menu look tidier by grouping it into a submenu like this


you can do so by opening WinRAR, going to options, settings, integration tab, then checking the box "cascaded context menus".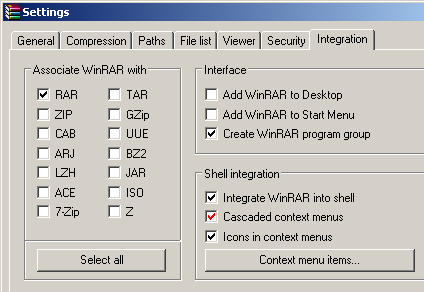 What's with those .r00 .r01 .r02 etc. files?
Those are multi-part rar files. If you right-click a file (or a bunch of files), and pick add to archive..., you'll get this window.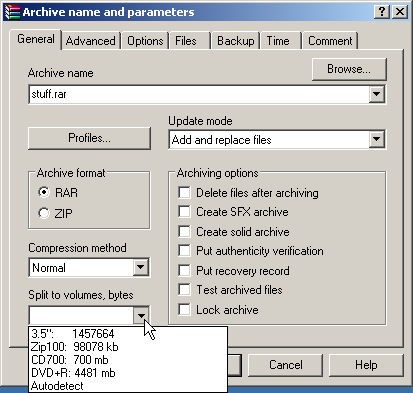 Notice in this screenshot that I clicked on the drop-down menu for split to volumes in bytes. Those are the default split sizes, but you can manually type in how big each chunk will be. Then the rar archive will be split into a bunch of parts exactly that size.
Older versions of WinRAR created parts with the extensions .rar .r00 .r01 .r02 etc. This was inconvenient because there was all these extensions/file types to keep track of in Windows Explorer.
The current way of splitting rar files produces files that end in .part001.rar .part002.rar .part003.rar etc. The actual extension remains .rar and is consistent.

OK, that's great, but how do I get their contents?
Same as before. Right click and extract to wherever you want. You can click any of the parts and it will work. WinRAR is smart enough to look for the other parts.

I tried extracting it but it asks me for another part! (Exact error message: "You need to have the following volume to continue extraction.")
If you're missing parts, you're out of luck. You need all the parts to extract everything.***

It says "CRC failed" and "The archive is corrupt" and I'm not getting anything!
WinRAR will not extract files that are corrupt or fail the CRC checks (for integrity). Try 7-zip instead (it will extract it even if it's corrupt), but keep in mind the file you're extracting has been modified.

How do I convert RAR to <insert format name here>?
It's one of the most annoying questions we used to get on the forum. "How do I convert RAR to exe, to avi, to iso, to ...".
Answer: you don't. RAR files are archives. They contain other files. And you extract what's inside. Once you've extracted the contents, you can decide what to do with it.

What does RAR stand for?
Roshal ARchive, from the name of its creator, Eugene Roshal.


* WinRAR encourages users to register it after 40 days of use, and the box appears every time you open WinRAR after those 40 days, but in practice, you'll never see it if all you do is right-click and extract. But if you have a few bucks to spare, by all means register it.
** Which one should you use? Extract here is handiest if there's only one (or very few) files to extract, or if everything is already in a folder. Extract to <folder name> is better when there's a lot of files, and they haven't been placed in a subfolder. It's probably one of my gripes with archives: some people archive whole folders instead of their contents, and when you extract to <folder name>, you get a subfolder within a folder... Rather minor annoyance, but you can relieve it a tad by peeking into the archive by opening it once prior to right-clicking and extracting, to help you decide which one to use.
*** If the multi-part archive was of a single file, then yes, you are out of luck. However if it had multiple files inside, you can still extract the ones for which you have all the parts. In such a situation, right-clicking and extracting is not the most pratical thing to do if the missing RAR part is in the middle, and you need a file at the end. Open one of the parts by double-clicking it and try dragging out the files you need.
Feedback
Hey I currently have a file that is split into 10 parts, with the first 1-8 parts having 1 password and parts 9-10 having another...is there any way to extract this or did the person who uploaded these files just do it for a joke since its impossible. thanks
Feedback
I hate it. Coulden't get Endless Forest because of it. I just have to do it on my family's PC, and take it in turns to go on the computer?! Because I can't download it BECAUSE of this? And I can't get it, because I BUY it? (Who said "Download Free!" games WERE free? I hate this...
Feedback
I CANT EVEN GO ON ENDLESS FOREST WITH MY FRIENDS BECAUSE OF THIS...
I mean, seriously. This is the main thing. And you have to BUY it?! What kind of thing is this...
Feedback
shes got her own laptop that cost enough but i cant buy all of this so she has to use the other
Feedback
i clicked on a setup file and it self extracted itself.... nw i cant find the folder in which it extracted itself.... i dnt hv enough space in my C drive.... plz help
Feedback
Can't extract files: "you need to have the following volume to continue extraction"

whaaa!???

Thankyou for your help
Feedback
An RAR archive contains a file which has an embedded ":" in it. WinRAR freaks out. Is there a way around this problem?
Feedback
Subscribe to this thread/question
Reply